*Early prototype shown above, new model will have international AC outlets.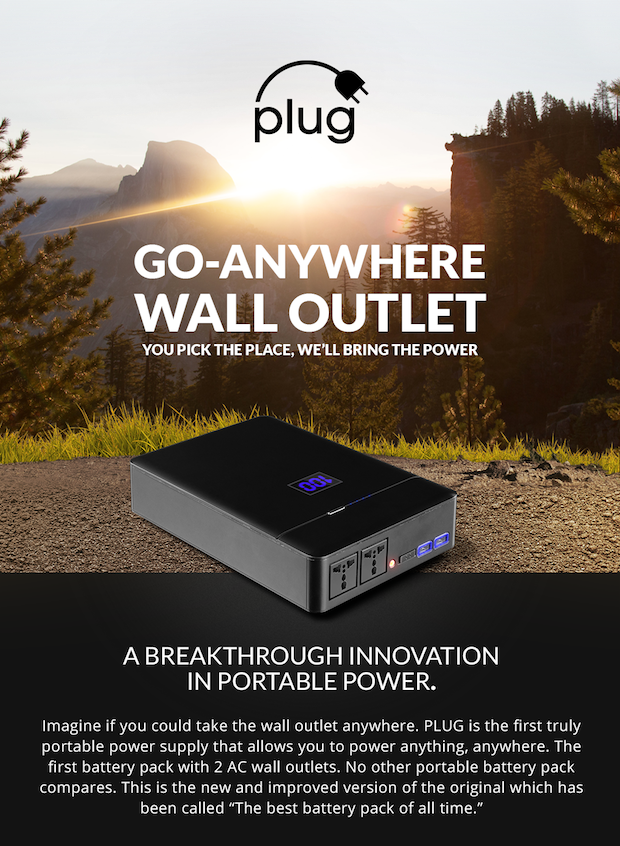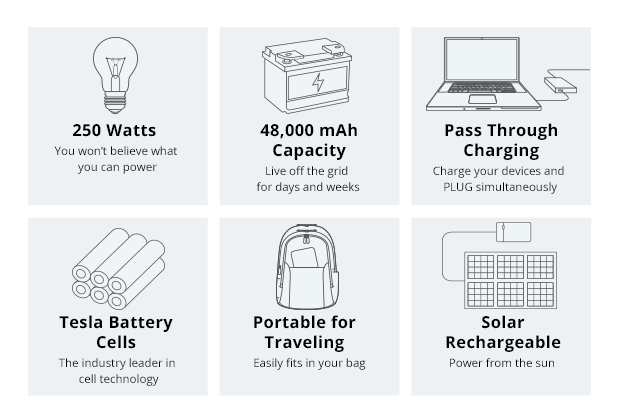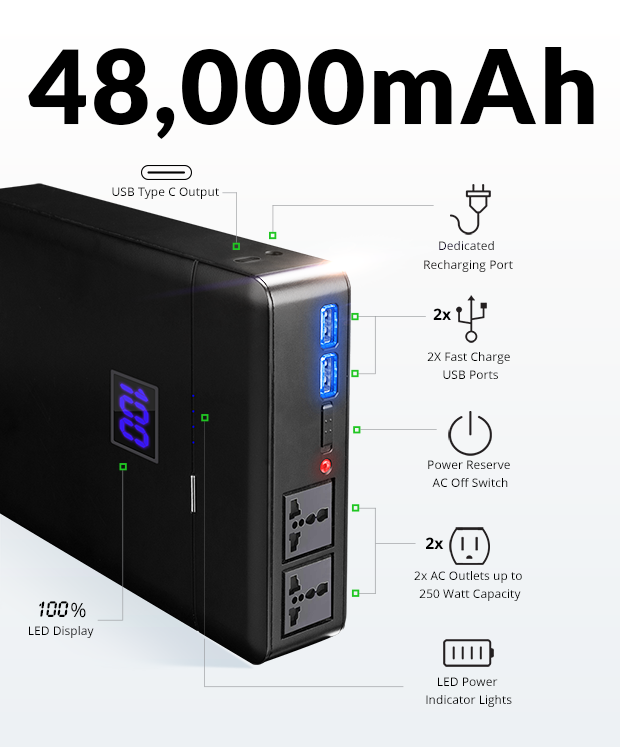 * USA prototype model shown. All backers will be upgraded with the new Worldwide International Outlets.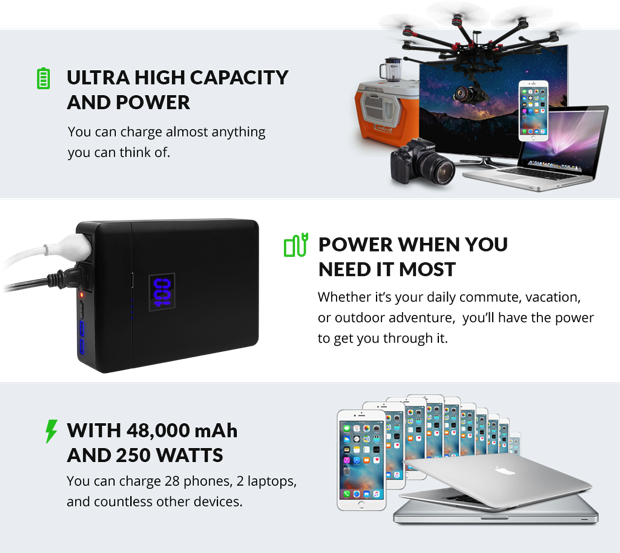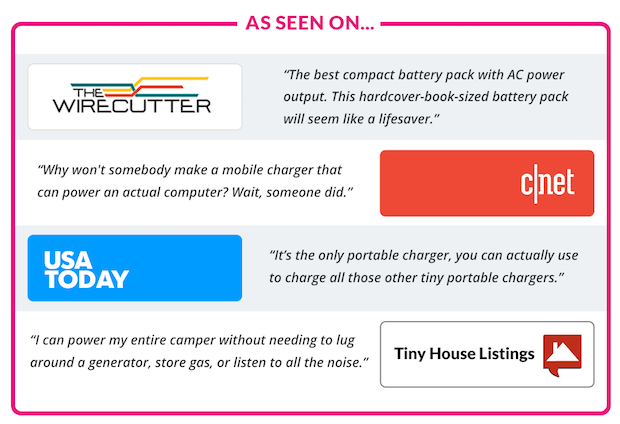 *Early prototype shown above, new model will have international AC outlets.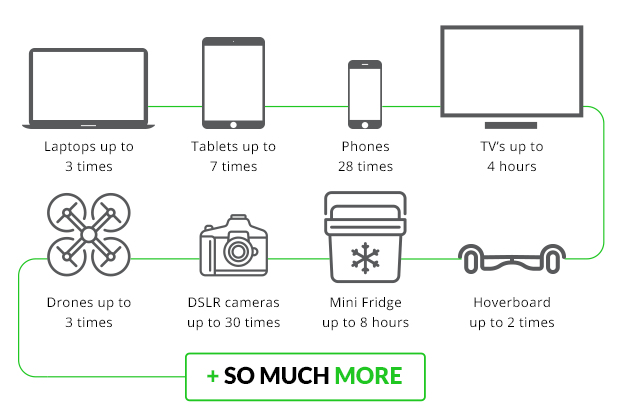 All Laptops, iPhone and Other Mobile Devices, iPad, CPAP Machines, Medical Devices, Desktop Computers, Printers, Flat Screen TVs, PS4, XBOX ONE, Wii U, Various Video Gaming Consoles, Mini Fridges, Cameras, Drones, Hoverboards and so much more!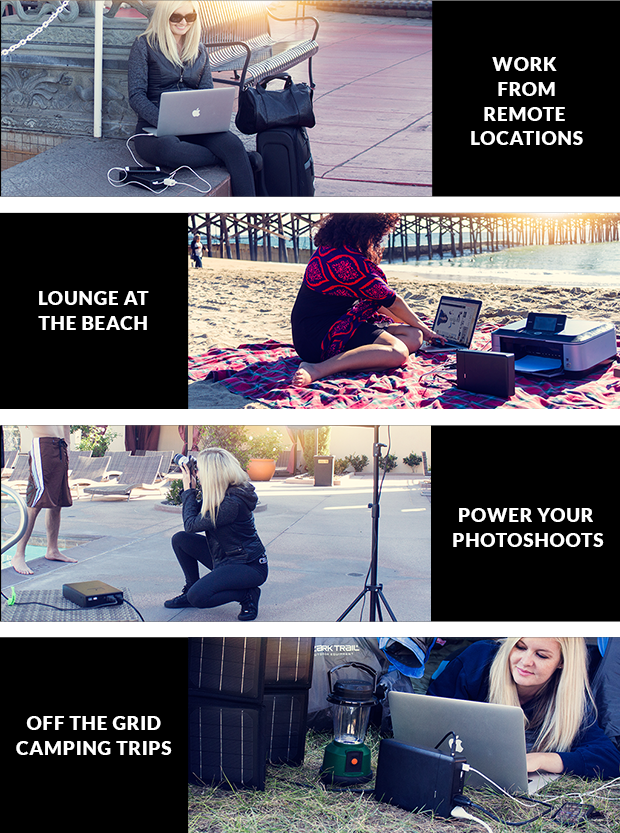 With PLUG you can live life on your terms. Imagine working from the beach without having to rely on your laptop battery. How about taking a family camping trip with the convenience of electricity at your campsite? Or being able to capture those special moments in perfect clarity because you can now use studio lighting anywhere. PLUG makes all of these situations and many more a reality.
And hey! Since it has two outlets, why not share the power with a friend?
Why be stuck inside playing video games or watching your favorite shows? Take them outside on a nice day for even more fun. Power your gaming console and TV anywhere.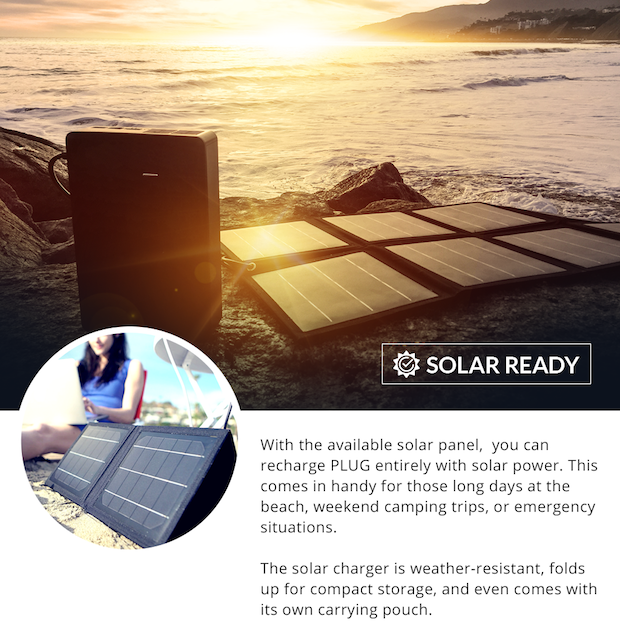 Sometimes, you want to power your devices while PLUG is still charging. This is now possible with pass-through charging.  You can still use it just like you would use a USB hub or surge protector.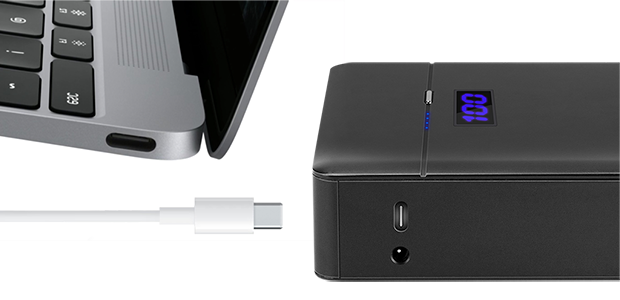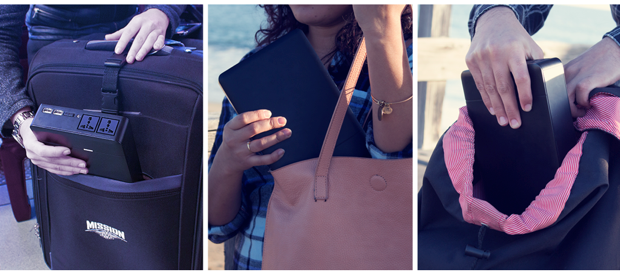 *Early prototype shown above, new model will have international AC outlets.
PLUG was created to pack the most amount of power in the smallest form factor possible. We knew all the power in the world would be useless if you couldn't easily carry it with you. During the development process, we tested PLUG's size by placing it in every bag we could find. If it couldn't fit, we went back to the drawing board.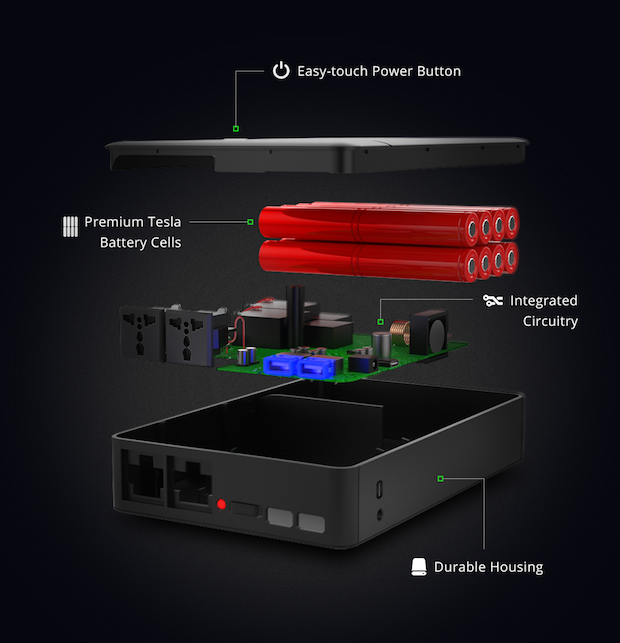 We used the same battery cells you'd find in a TESLA car. Chosen for their unbeatable performance and longevity, these battery cells were manufactured by Panasonic, the leader in battery technology.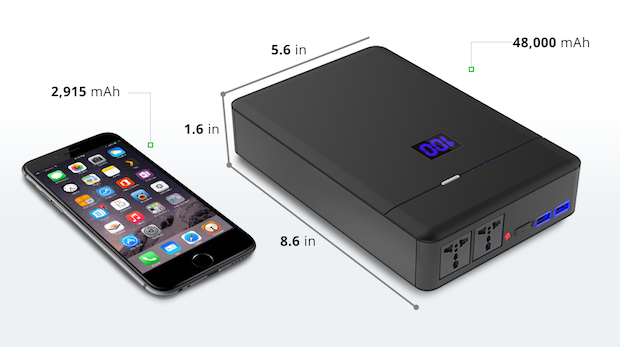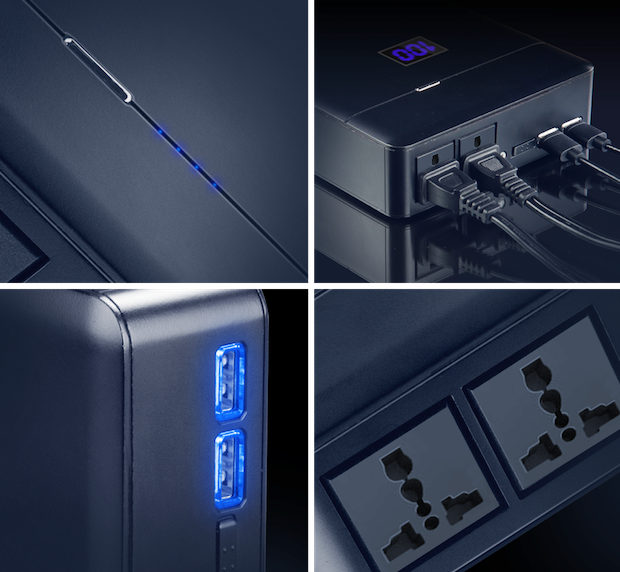 We wanted PLUG to not only be extremely functional, but also beautiful. PLUG is something you would be proud to take out of your bag every time, and compliments the technology you already have.

This is our guarantee to you. PLUG will never be sold at a lower price than we are offering it here on indiegogo. It's our way of thanking you for being one of the first people to support our goal of bringing portable power to the world. We've shipped on 100% of all previous campaigns and have the positive reviews to prove it.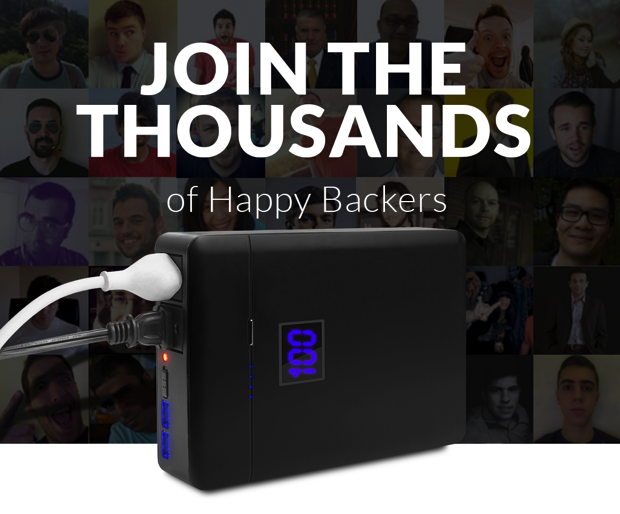 This is our second crowdfunding campaign. In 2014, ChargeTech introduced the world's smallest portable power outlet. We've shipped thousands of units to backers all over the world and built lasting partnerships with companies such as Google, NASA, Hilton, and Toyota. We've heard countless stories of people powering anything, anywhere. Thanks to all your feedback and support, we are proud to bring you our most powerful unit ever.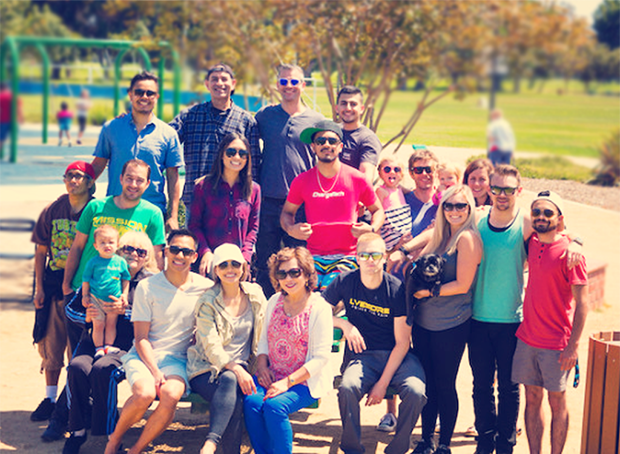 We're a team of dreamers, designers, engineers and problem solvers. The team is based in California, with worldwide operations in Switzerland and China. Our goal is to help the community power anything, anywhere by building life-changing products.

We're the crowdfunding campaign that's powering other crowdfunding campaigns. Power your Coolest Cooler, Jibo Robot, Oculus Rift, DJI Phantom drone, Hoverboard scooter and so much more.

Everyday we're constantly tied to the wall outlet to power our devices, from our desktop computers and laptops to our tablets and cell phones. Too often we have to squeeze into uncomfortable spaces just to stay connected. Now, with PLUG, there's a better way. Break away from the wall outlet.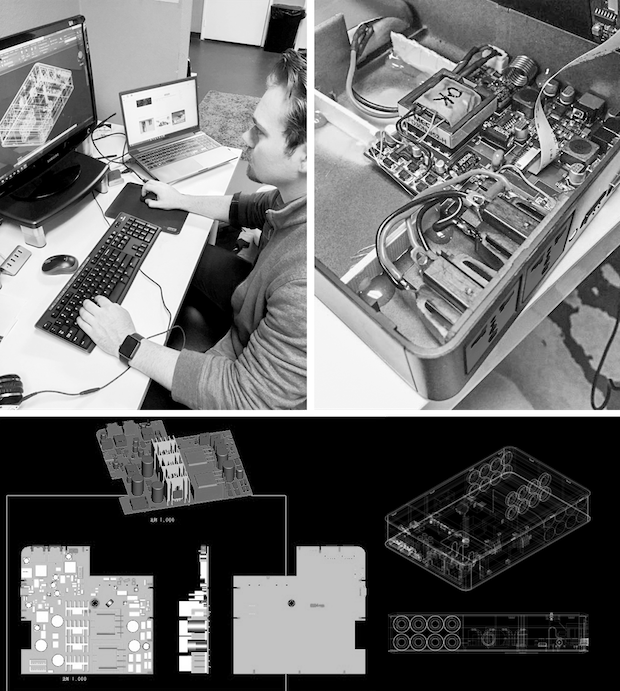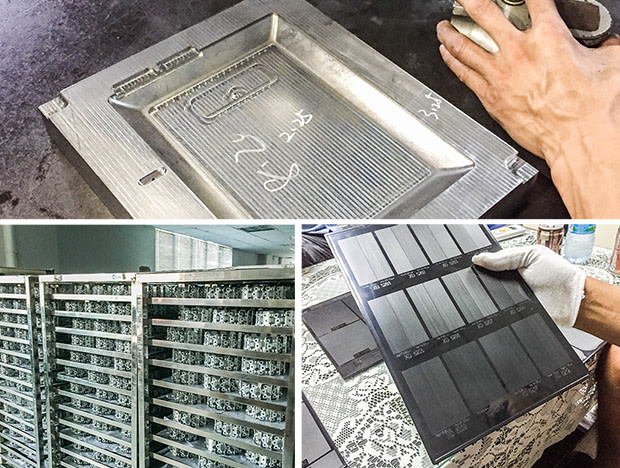 We've worked extensively with our manufacturers to ensure they're ready to move ahead at full steam once we place our initial order. All we need is your support to begin mass producing units of PLUG.